Digital anniversary of the St. Rumbold's Tower in augmented reality
Stad Mechelen
Drone photography
Photogrammetry
WebAR
Digital anniversary of the St. Rumbold's Tower in augmented reality
St. Rumbold's Tower is an iconic architectural landmark for the city of Mechelen. It's a historical building in the heart of the old town, providing majestic views over the surrounding area. On a clear day, the features of the Brussels Atomium – located more than ten miles further south – can be distinguished from the tower's panoramic viewpoint. As part of the city cathedral, the tower boasts a proud history. And yet, large parts of its story often remain untold. High time to change that and reconstruct the tower's unfinished spire!
Full of history
To celebrate the 500th anniversary of the tower, the city called on our team to elaborate a concept for an engaging website that would not only make the tower shine online, but which would also explain the history behind it. There were plenty of fascinating stories to highlight. An example? The original plans for St. Rumbold's tower included a spire that would have made it the tallest structure in the country at the time, by a wide margin. However, five centuries later, it's quite apparent that the 97-metre tower falls significantly short of the anticipated 167 metres.

Cutting-edge technology
The city thought the anniversary to be the perfect moment to bring the cathedral and its often overlooked spire to life using technology. Their main request: a creative and budget-friendly online concept that would appeal to all generations.
Our creatives consulted the drone experts at Haviq. They captured the entire cathedral – including the unfinished tower – from all possible angles. The resulting 3900 photographs were the starting point for our experts to start building a 3D model of unprecedented detail using photogrammetry.
But we didn't stop there. Our designers went back to a 17th-century technical drawing to turn the unfinished spire into a 3D model and added it to the design of the cathedral. Next, we converted it into an object for native web augmented reality, using Model Viewer. This way, the model is accessible from any smartphone or tablet as if the scale model were really there. We also built an immersive website that allows visitors to scroll through the cathedral's 500 years of history. Over 1000 images in a scrollable 40-second video, backed by strong storytelling.

In a nutshell
Scrollable website, using 1000 images from a 40-second, 25-FPS video.
Detailed 3D model of the cathedral, thanks to drone photography – over 3900 images – and photogrammetry.
Website in four languages.
3D modelling of the unfinished cathedral spire, based on a single technical drawing dating back to 1649.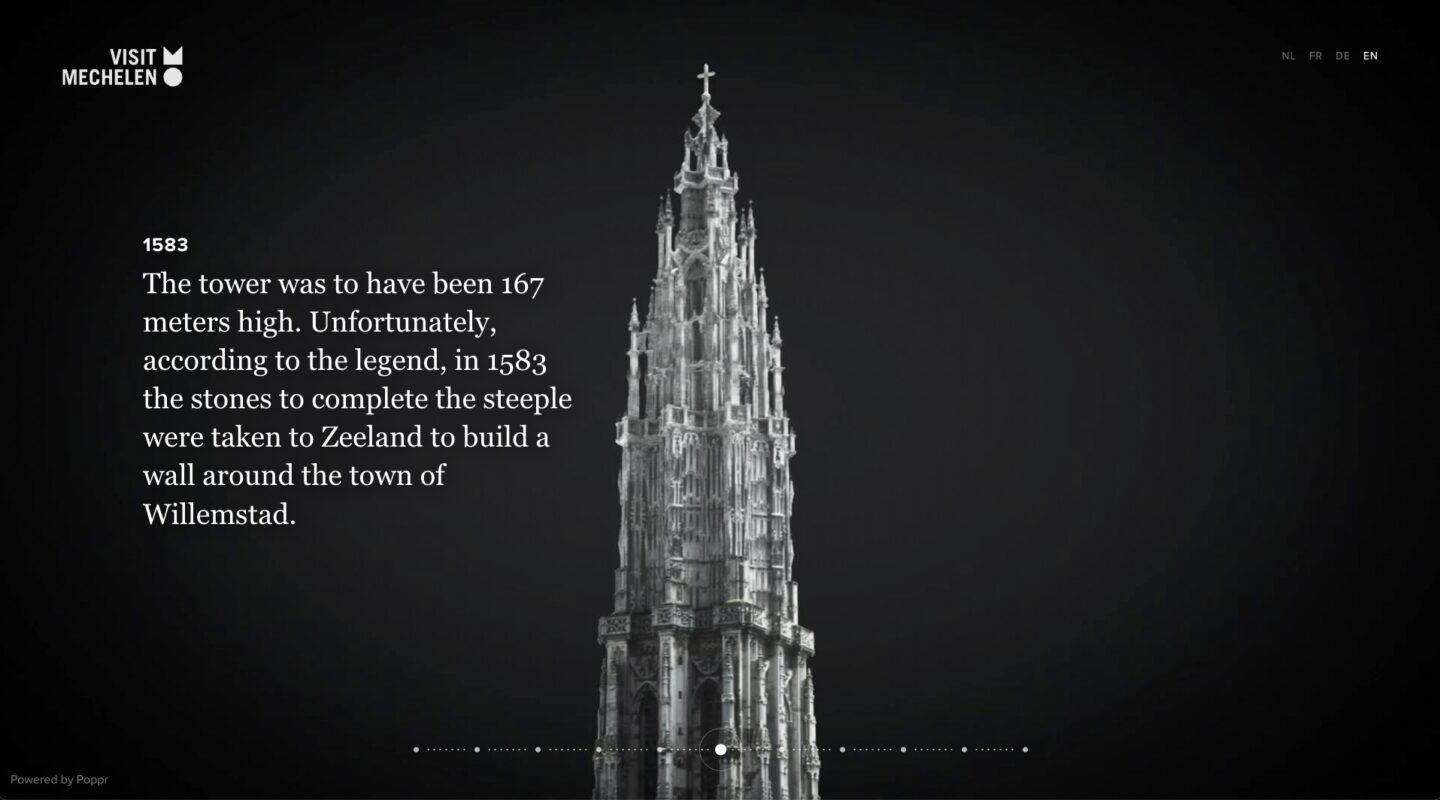 A spire that inspires
A fully-fledged online experience on a modest budget, combining history and cutting-edge technology? Right up our alley. The result? A scrollable HD video using unparallelled storytelling and an easy-to-understand account of the tower's history – including the first-ever digital representation of the spire that never became reality.

Credits
Bart De Bock

•

Technology Director