Virtual reality training simulators
A fast-paced and dynamic business environment calls for teams that are able to adapt and learn new skills quickly. Traditional training methods lack the hands-on, interactive elements that only a truly immersive experience is able to provide. That's where virtual reality training simulators come in.

Embracing new training methods
VR as the future of L&D
Training simulators in VR are fully computer-generated environments that create realistic, context-based training scenarios. They make your employees feel actually present, allowing them to experience truly interactive learning and development (L&D). Ranging from medical and safety training to military applications, VR training solutions are used across all industries for development of both hard and soft skills.
Learning that sticks
The key advantage of VR training simulators is your teams' ability to practise and make mistakes in a safe and controlled environment. This is especially useful for high-stakes industries where real-life errors can have serious consequences. Examples of virtual reality training? Surgical teams can use VR simulators to run through complex procedures before performing them on real patients. At the same time, energy and utility companies use VR training to keep their critical infrastructure safe from real-life threats while their technicians execute complex sequences and drill emergency scenarios.
Making training fun again
VR training simulators are more engaging and enjoyable for your staff. Active participation and micro-learning moments stimulate the learning process. This leads to higher retention rates and a more positive attitude towards learning and development. A quick overview of the key benefits of VR training that business find most helpful to foster a better training and safety culture:
VR helps to develop situational and spatial awareness in employees like no other training medium.
Faster learning reduces training time and increases operational availability of employees.
Business interruptions are virtually eliminated and don't strain resources like real-life training does.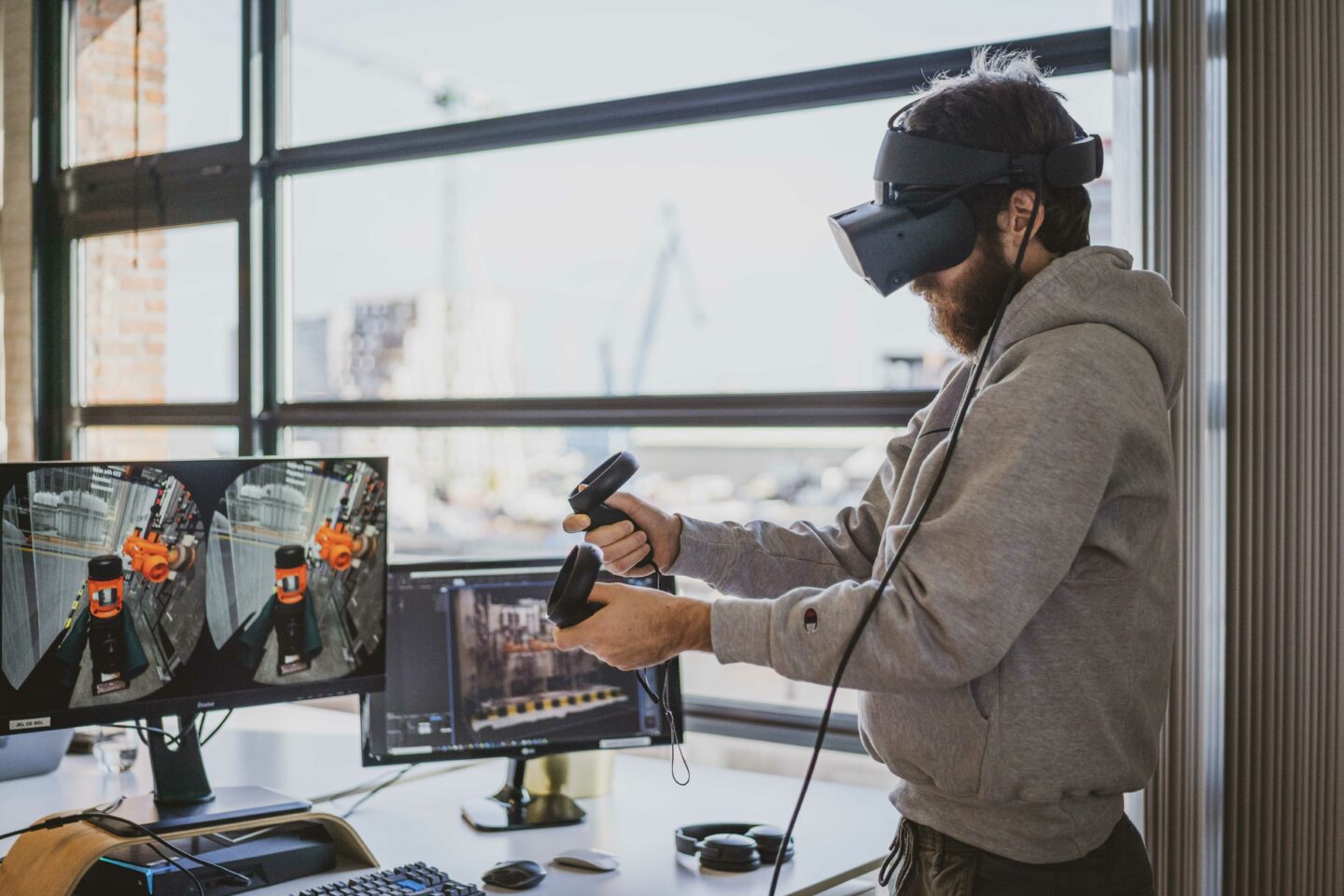 Let's build yours
How we create VR training experiences
The future of learning is already here, and we're here to build it for our clients. We use advanced techniques, such as photogrammetry, to replicate every intricate detail of existing environments. Alternatively, we're also able to develop new 3D models from the ground up to create a true-to-life simulated environment. We develop virtual training scenarios and add gamification elements if necessary. The simulation is then loaded onto a VR headset or tablet, enabling workers to improve their skills in a safe and controlled environment. Do you prefer a custom training app or rather a WebVR application that is accessible on any device? The choice is yours. Our team can design your training environment to be fully web-based, enabling VR training in your web browser.