Gearing up: Ford Mustang of the future in virtual reality
Bringing the Mach-E to VR
Whenever car brands have a spectacular new model to introduce to the world, they usually turn to leading motor shows to generate buzz and create excitement. This is exactly why Ford had counted on the annual Brussels Motor Show to present its latest Mustang Mach-E driving innovation to a wide audience. Under normal circumstances, this would have proven to be the perfect vehicle – pun intended – to make thousands of eager car enthusiasts marvel at the carmaker's latest electric driving innovation.
A short-notice cancellation of the highly anticipated 2020 edition of the motor show, however, threw a spanner in the works. That's when Ford turned to Poppr to put its latest electric driving marvel on display. The main aim? An immersive virtual reality experience that would demonstrate the power of the Mach-E to its intended target audience. Since test-drive cars were in short supply, a creative solution was needed to make the driving experience of the Mach-E available at every Ford dealership in the country.
Putting visitors in the driving seat
Poppr decided to design a VR test drive experience that would showcase the ins and outs of the new all-electric Mustang using a virtual reality headset.
Key requirements:
A standardized VR experience, available on headsets at different Ford dealerships.
Easy updates (e.g. for additional content or software updates).
No maintenance for on-site dealership staff.
Maximum headset hygiene and safety.
In addition, all of the above required a blazing fast throughput time, considering the Christmas Day deadline less than eight weeks after the request first arrived at Poppr.

Pedal to the metal
A fast-moving and highly technical operation requires excellent coordination. One side of the Poppr team set to work to source over a hundred Pico G2 4K headsets and preconfigure them using an online accessible video platform. Using this set-up, potential updates can be pushed through remotely.
This gave the dealership staff the freedom to focus on what mattered most: presenting the French or Dutch version of the VR car presentation without having to focus on any of the technical aspects.
The headset choice for Ford's use case was an easy one. The Pico G2 4K is renowned for its image quality and does not require a Facebook account to run (as opposed to the Oculus Quest, its main competitor). In addition, the Pico headsets are easy to disinfect and clean, thanks to their plastic and leather housing.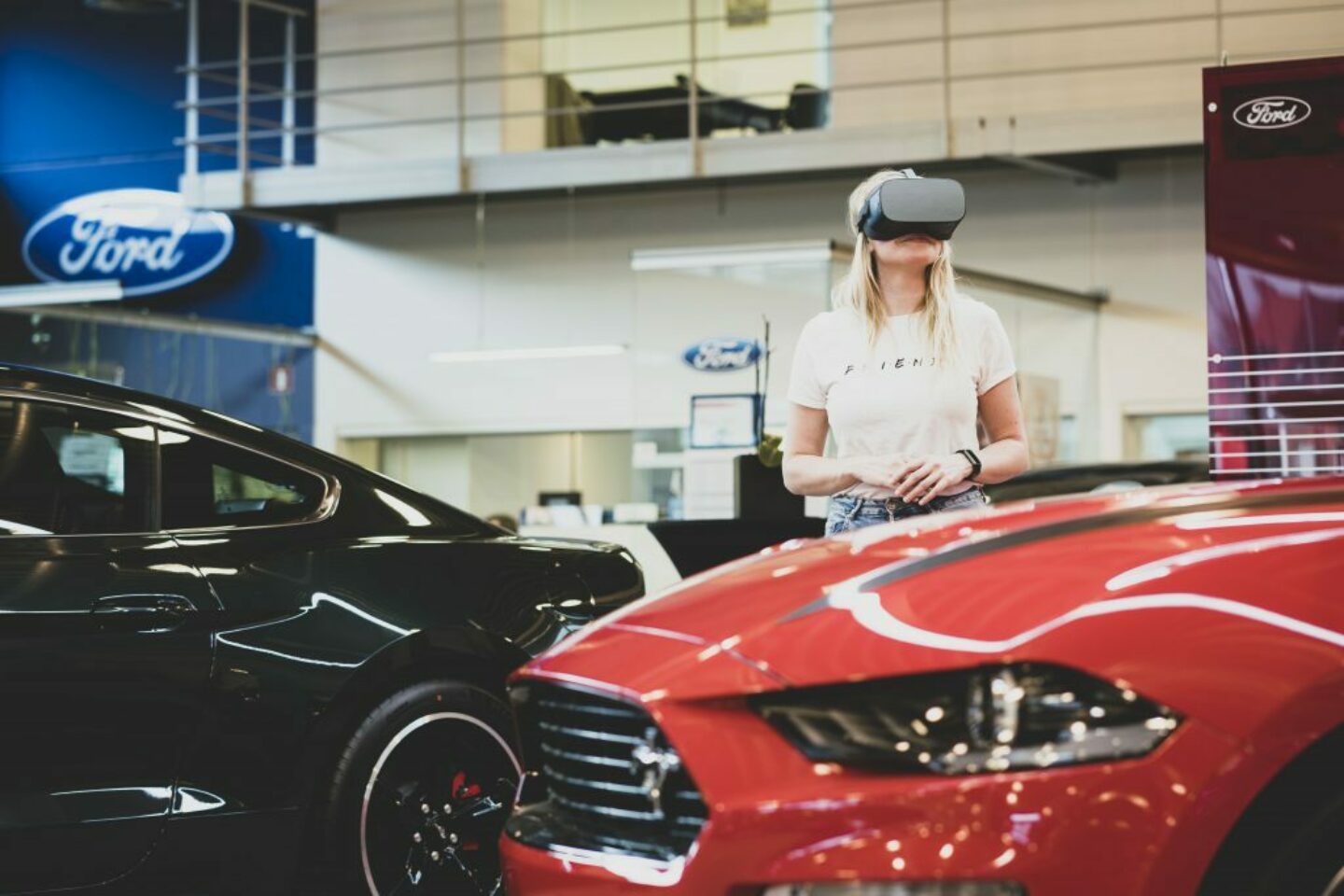 Capturing the workhorse on film
On an eight-week time frame, shooting and post-production of a 360-degree immersive video becomes a matter of meticulous planning and flawless execution. Our Poppr video team successfully delivered. Key filming consisted of a two-day on-site shoot at Lommel Proving Ground, Ford's primary vehicle test track in Europe.
Some of the challenges we successfully tackled:
Shooting during a narrow time-window with ideal lighting conditions.
Filming using a first-class Insta 360 Titan camera attached to a drone – a first for Europe.
Fully damage-free mounting of 360-degree cameras to the Mach-E test cars.
The end result? A worthy alternative for the live presentation the new Mustang Mach-E deserved, accessible to all prospective buyers and car aficionados.