Charging ahead with the e-tron – Audi Brussels virtual factory tour
Audi Brussels virtual factory tour
Charging ahead with the e-tron
Electric driving is fast gaining momentum. The future of electric driving is approaching, with EU regulations stipulating a ban on the sale of new petrol and diesel cars from 2035. Audi leads the trend with new models and other EV-related innovations. The current flagship model of the German car manufacturer is the e-tron. This all-electric luxury SUV is assembled at Audi's Brussels factory. Daily on-site tours provide limited behind-the-scenes access to the general public, providing them with information on the state-of-the-art production processes. The capacity of these tours is limited, however, and due to safety reasons not all production areas are accessible. A virtual tour would prove to be an excellent opportunity to give even more people the chance to take a look behind the scenes.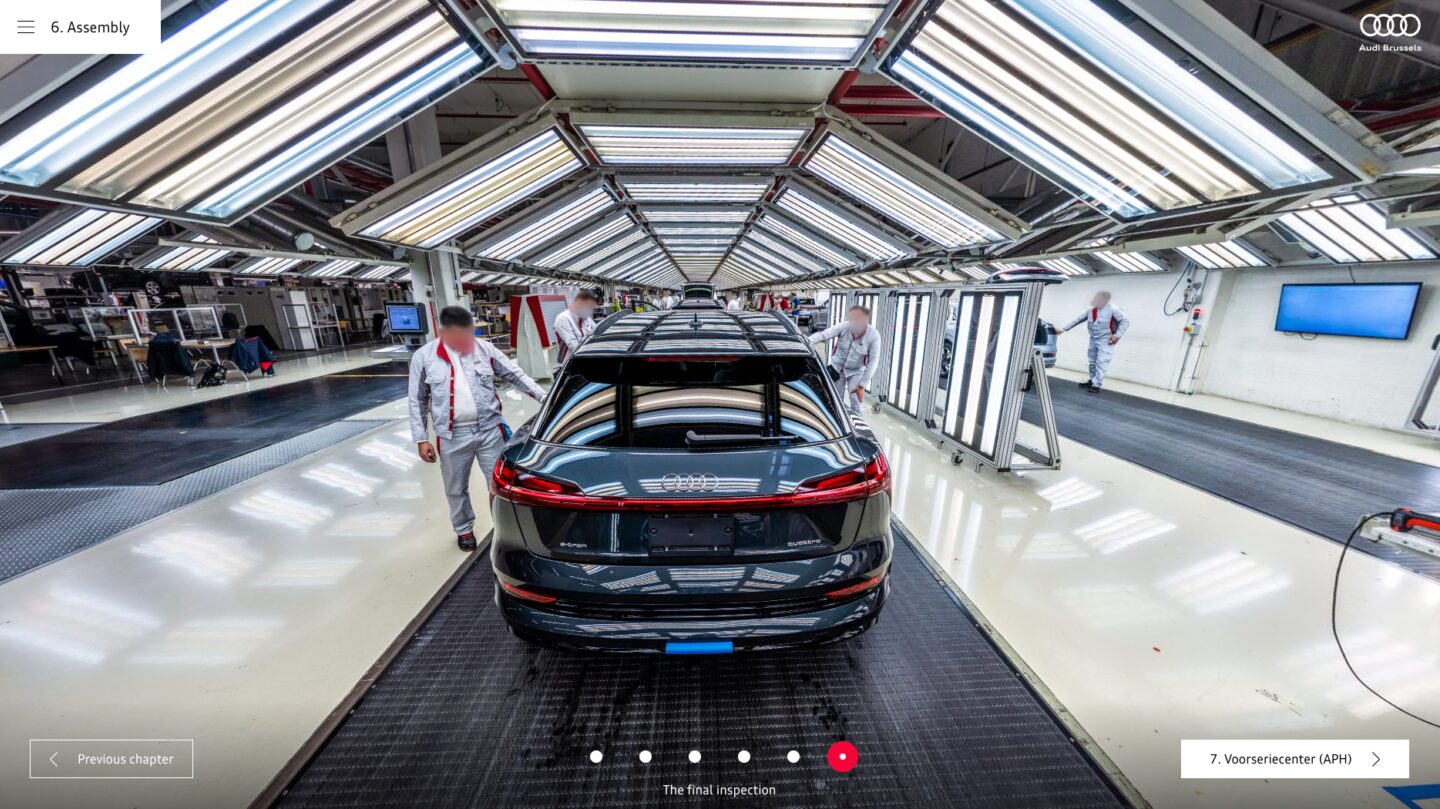 Technical feats
Together with the Audi team, we set out to create a customized tour. Our main aim was to explain the complex production process of the e-tron in a visitor-friendly way. Many of Audi's additional requirements and challenges required specific experience and custom development. These included:

360° video of the undercoat dip, an electrostatically charged bath of undercoat primer for every car.
Face blurring of employees in the video and image footage, for additional privacy.
Aerial panorama of the factory site.
Implementation of a user-friendly content management system (CMS). Audi's marketing team can easily edit the tour's accompanying text boxes and images themselves.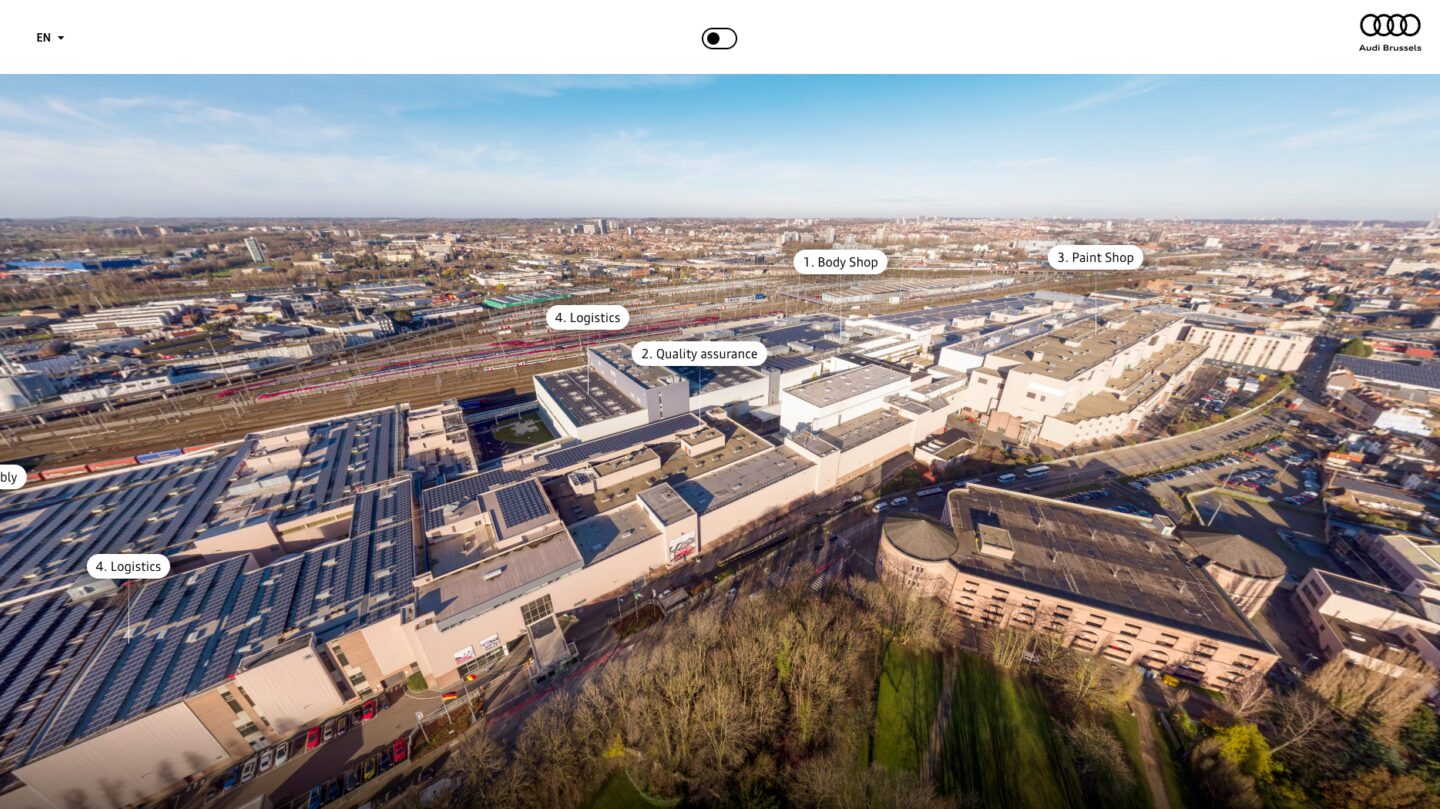 Secret on-site access
The online tour gives anyone with an internet connection access to a number of different production halls, spread across the factory site. The 360-degree photos and videos are accompanied by additional information that explains the advanced production processes that take place on site. A bonus of the online tour is a guided tour of the so-called pre-series center: a workshop where new models are tested. This workshop is not accessible during in-person tours.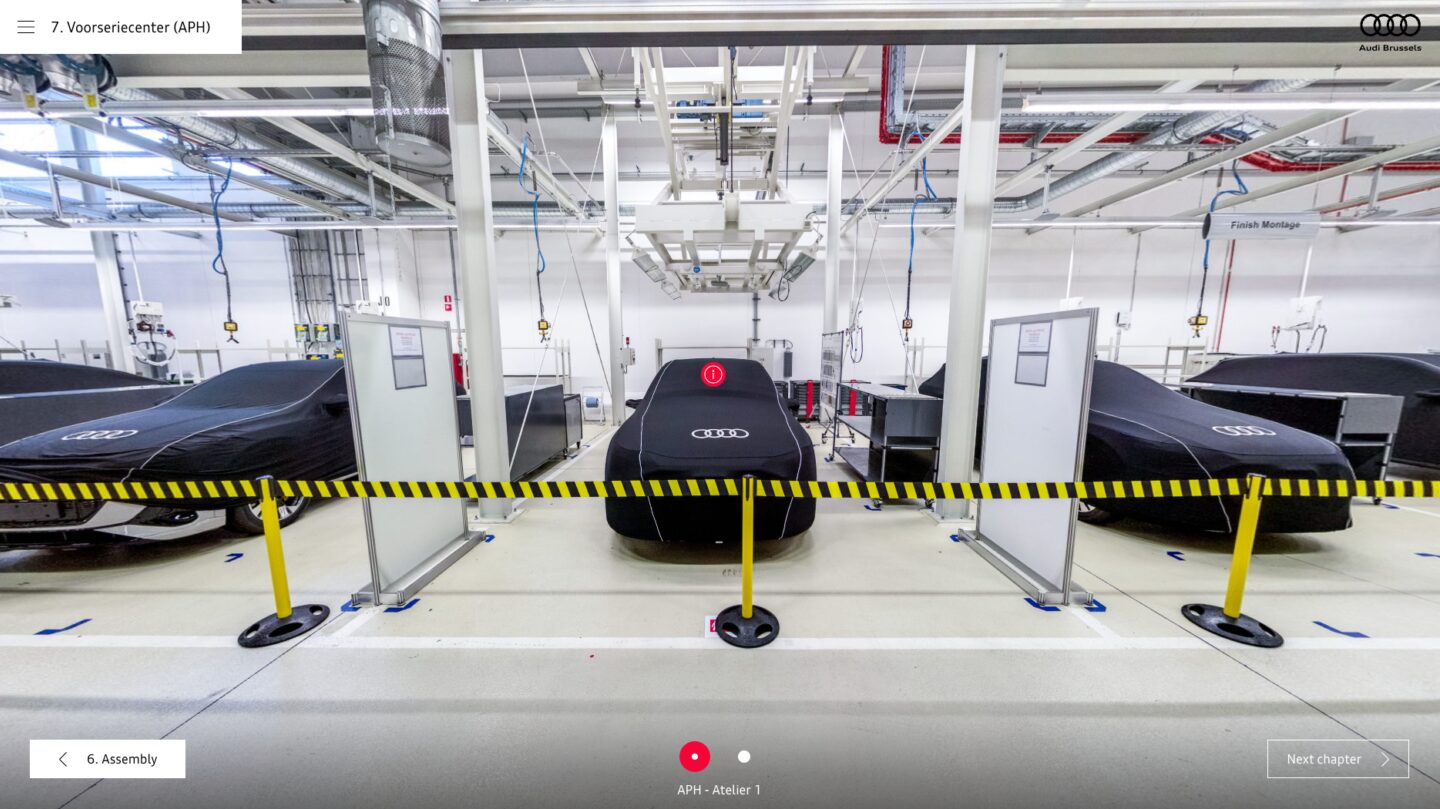 Improved SEO visibility
Audi's virtual tour required plenty of custom development. This additional development time provides additional advantages compared to off-the-shelf 360° tour software, which is limited by design in terms of features and customizability. Our team delivered the premium experience the e-tron deserved: high-resolution interior footage and drone shots, an innovative design in line with Audi's branding, and room for future expansion with additional content.
An additional advantage of a customized tour lies in its added SEO value.
Smart technical optimization and integration allows for easy scanning and interpretation of the virtual tour by Google and other search engines. This way, Audi's virtual tour features prominently in relevant searches, generating more visibility for the e-tron in turn. This way, the investment in custom functionality more than pays itself back, both in terms of content and SEO.

Credits
Inert

•

Web Design
Krisztian Kertesz

•

Web Developer