Virtual university campus highlights
Universities are much more than places to learn facts. VUB and its more than 3,000 staff is not only renowned for its academic excellence; the university also prides itself on its top-notch research. Plenty of unique selling points worth promoting – also online. What better than a series of virtual tours of the VUB campuses, leading to increased visibility among prospective students and employees?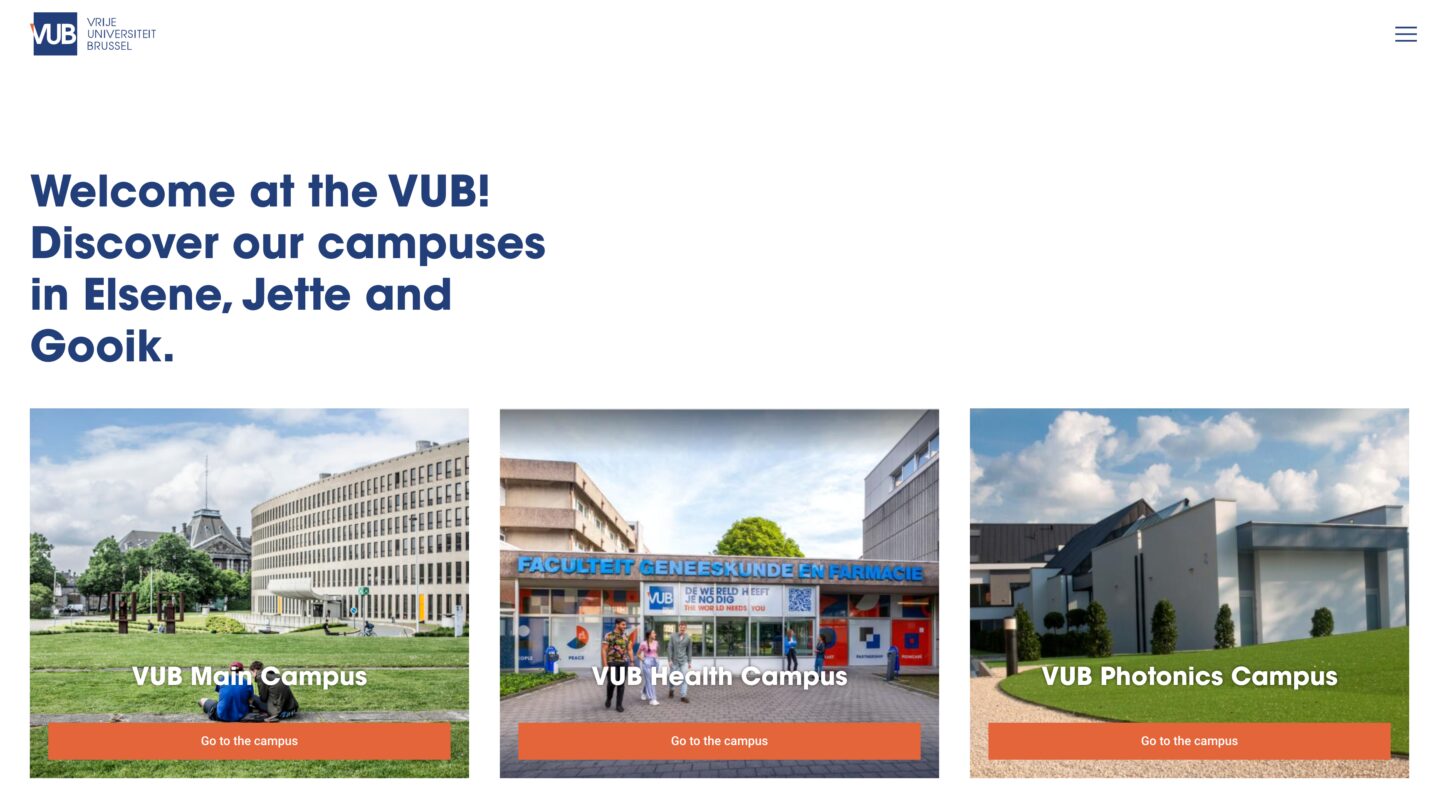 New marketing opportunities
Under normal circumstances, on-site campus visits provide an ideal way to entice school-leavers. Sneak previews of auditoriums, workspaces and labs serve a taste that has the potential to win over students (and potential employees). In times of physical distancing, the university saw itself obliged to tap into different ways to play to one of its key strengths. That's why VUB called on our Poppr team to create a series of virtual tours for three key campuses in the Brussels region.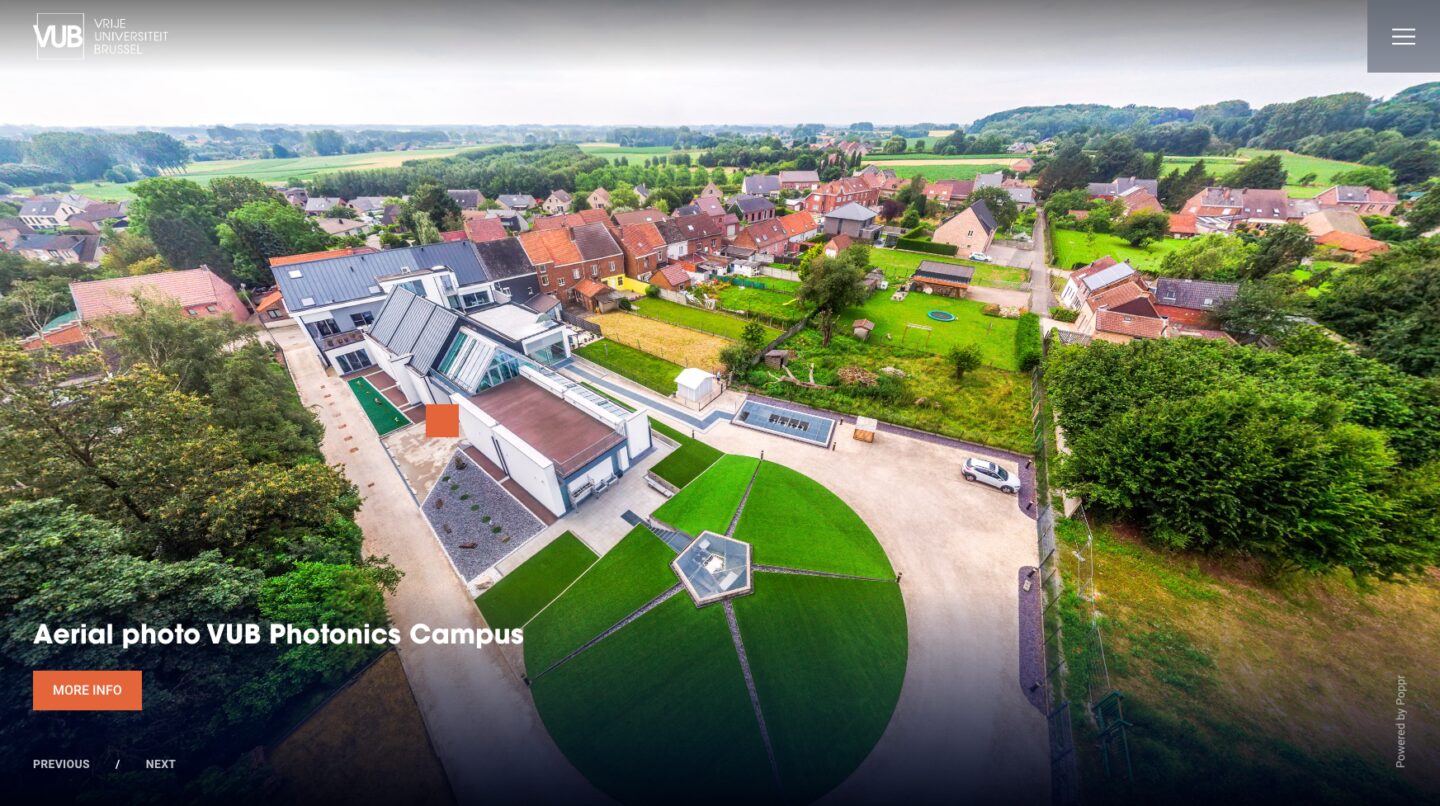 Main focal points
A virtual tour that allows potential students and new staff to get to know the campus culture, services and facilities in a safe way.
An accurate representation of key strengths and campus highlights, attracting foreign students who are unable to visit in person.
Promotion of technology research through behind-the-scenes access to research labs that aren't accessible to the public.
Important detail: the delivery of the three tours came with a tight, 8-week deadline. On-site shoots would have to be scheduled to fit around exam periods, with room for weather alterations or other possible delays.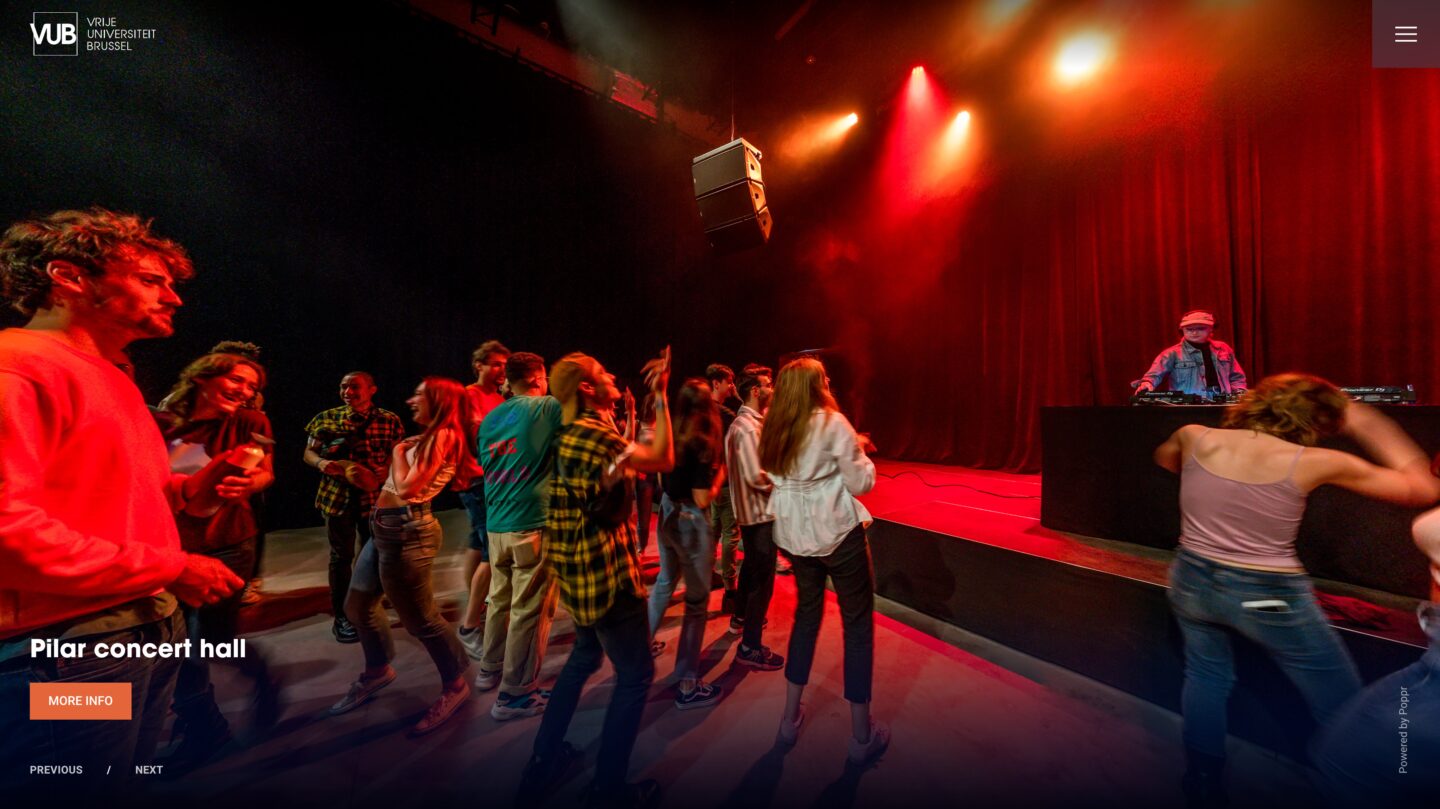 Flexible photoshoots
Universities are constantly adapting to thrive, and this applies equally to their buildings.
It's a near impossible task to fully declutter and deep-clean a large, living institution for a single day of shooting. That's why we worked some post-editing magic to ensure that we could show the university buildings in the best possible light, without any major disruptive interventions on the premises.
Our post-production team set to work with the high-resolution source material and added a selection of images to the online tour environment. In addition, we created a comprehensive image database. This way, VUB's marketing department is able to select relevant 360-degree photos and other high-quality footage to use in other campaigns and on its websites.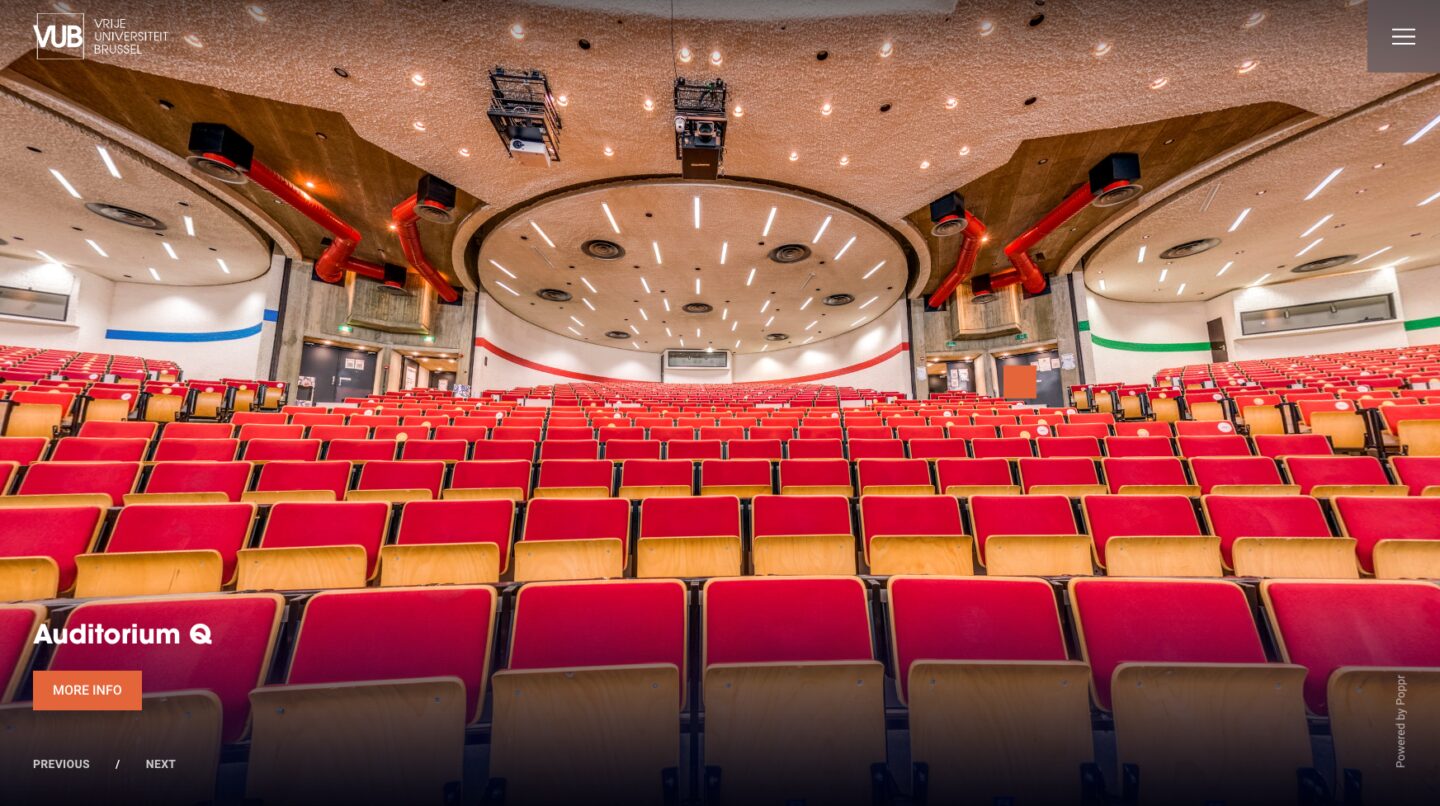 In a nutshell
Fully custom, CMS-based virtual tour in 2 languages, for easy management by VUB's marketing team.
Easily accessible and browsable image database including all relevant 360-degree images and prints.
Lightning-fast delivery: from first meeting to 3 online tours in a mere 8 weeks.
Flexible photoshoots: three locations, taking into account weather conditions and availability of university staff.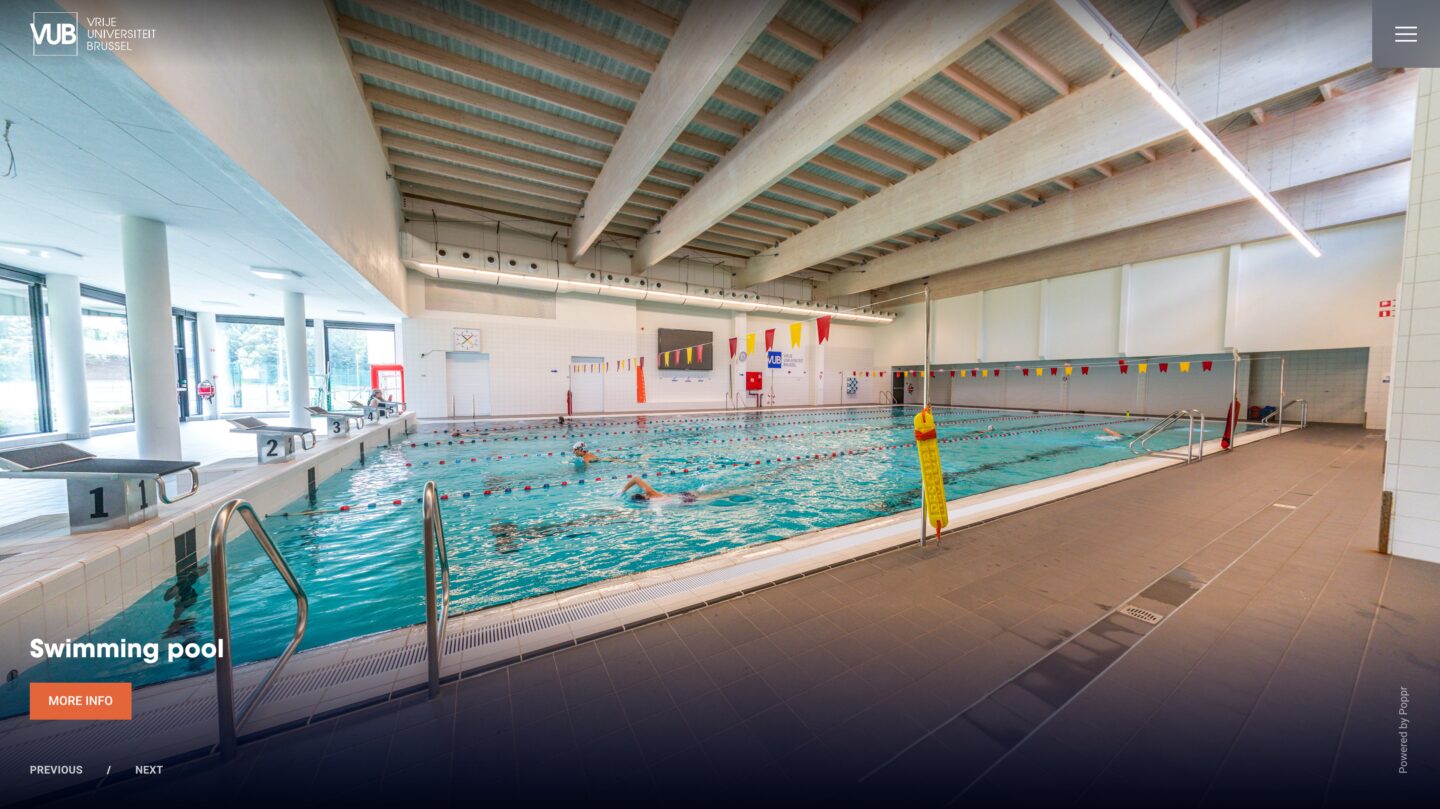 Strong visitor numbers
The immediate result? 600 online visitors during the launch event. Reactions were overwhelmingly positive: key campus advantages were on full display. The virtual tours mark a new step for VUB in its employer branding and campaigns with prospective students.